Unknown
Latest Updates Featuring Alyssa Lynn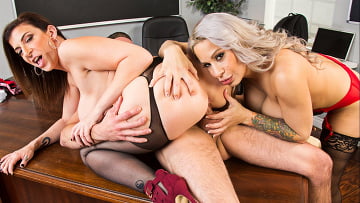 9th February
- College kids these days! Professors Sara Jay and Alyssa Lynn are so sick and tired of their lazy and entitled students, they can't wait for the semest
er to be over. Prof. Lynn gets jealous when Prof. Jay admits that she tends to destress throughout the day by sneaking off to the faculty restroom to use her vibrator, so Prof. Jay gives her a lesson in Relaxing 101 with a little girl-on-girl action! But while the busty teachers are tits out and tongues in right there in the classroom, one of Prof. Lynn's students walks right in! He's there to pick up his cellphone that she had confiscated, but the turned-on teachers are too flustered to do anything but 1) shut him up about what he saw, and 2) get his hard dick out so he can finish what they started! Watch this student-teacher threesome to learn the right way to respect your teachers today!
...Read More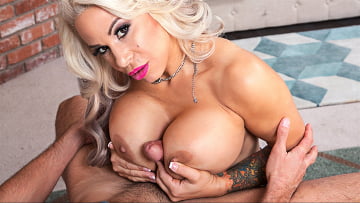 7th December
- Alyssa Lynn needs a ride, so she gets a hold of her son's friend to get home. She gets more than just a ride home but a ride of a lifetime.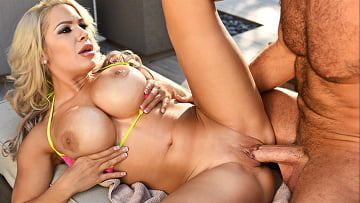 17th November
- Chad is a married man that can't keep his eyes off of Alyssa's nice big round titties. She asks him to help putting lotion on her and now he can't kee
p his hands off of her.
...Read More
13th March
- Alyssa needs her pool cleaned for the right price. Seth, the pool guy, believes cleaning her pool is going to carry a hefty price tag because it hasn'
t been serviced in years. Alyssa thinks that they can work out a side deal that doesn't involve money but, her lips wrapped tightly around Seth's cock.
...Read More
10th June
- Alyssa Lynn is hanging out in her backyard on a hot Florida day, dipping her toes in the pool and watering her garden when she discovers her daughter'
s friend Bruno peeking at her over the fence. She calls him in and asks him what he's up to, and when she calls him out on peeking at her big tits, he has no good excuse. But that's all fine and dandy with Ms. Lynn, because she's horny as fuck and wants her nipples sucked ... and she wants to suck on Bruno's big dick!
...Read More