Latest Updates Featuring Alix Lynx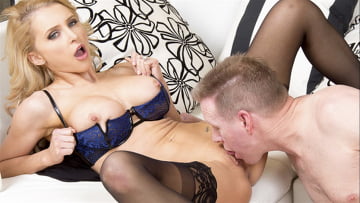 26th April
- Ain't got no money to pay the rent! Alix Lynx hears this from her husband when she calls him after waking up and discovering him not in bed with her!
He's out on the road looking for work, and tells her he'll be gone for a week! Alix has had enough of it and decides to take matters into her own hands by visiting her husband's well-off brother Mark to see if he can help them. The thing is, she gets all dolled up in stockings and a thong to go to his house! He catches her drift and shows her that he's on the same wavelength — the kind that puts his big dick in her mouth! Alix takes his cock like the good sister-in-law she is, all over her tongue and lips. And then she takes his money like he promised…until the next month comes around!
...Read More
18th September
- Sarah Vandella has been staying with Alix and Preston. There's a slight problem though, Sarah always seems to interrupt Alix and Preston when they are
trying to get intimate. They finally confront her about it only to find out that Sarah just wants to join them. After some thinking Alix and Preston decide why not and engage Sarah in a hot threesome.
...Read More